Leeds pothole repairs budget doubled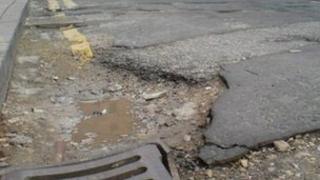 Leeds City Council is to more than double the amount it spends on repairing potholes.
The ruling Labour group said it would divert £1.5m from the existing road repair budget into "more robust pothole repairs" in the current financial year.
Councillors said the work had already started on some of the city's busiest roads.
The authority spent about £600,000 over the past 12 months repairing more than 12,000 potholes.
Councillor Eileen Taylor, Labour lead member for the economy and development, said: "We have endured a number of bad winters in a row and the wettest summer on record last year.
"The roads have clearly suffered and we need to take action to get on top of this problem."