Benefit changes: Leeds Council re-designates bedrooms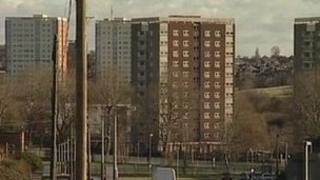 The number of bedrooms in some council homes is to be reduced in response to benefit changes.
Leeds City Council said about a third of people in the 837 properties were affected by the under-occupancy charge.
Tenants with spare bedrooms face reductions in housing benefit following welfare changes introduced in April.
The authority said it would also ensure properties had the right designs and layouts for modern living.
Properties have been selected for re-designation on the basis of their build type, design and layout, the Labour-run council said.
In some cases a five-bedroom property with a downstairs bedroom would be re-designated as a four-bedroom home to create what the council claims is a more appropriate layout.
It also said many of the properties were considered unsustainable in the long-term as they had higher cases of under-occupancy.
Labour councillor Peter Gruen said: "The move to look at this change has been in part prompted by welfare changes and looking at ways to help all tenants across the city."
Mr Gruen said tenants in the re-designated homes who had faced reductions in housing benefit would receive a refund.
The Department for Work and Pensions said it was up to local authorities to decide how many bedrooms a property had.