Pudsey rolling police van death 'stuns' community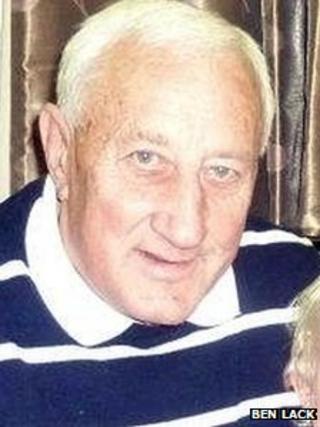 A community has been left "stunned and saddened" after an elderly man died when an unattended police van rolled forward and hit him, a resident said.
The man, named locally as Donald Bennett, 83, was struck by the van in Pudsey Park, Leeds, on Saturday.
Two officers got out of the van to deal with a disturbance in the park before the vehicle rolled into the pensioner.
Neighbour Richard Brook said: "We were shocked, especially for it to happen in a park like this."
The 83-year-old retired joiner was believed to be married and visiting the park with family.
He was treated by paramedics at the scene but pronounced dead shortly after.
Floral tributes were left by his family, including his grandchildren, at the spot close to the park gates where he was killed.
Mr Brook, who lives a few streets from Mr Bennett's home, said the community was stunned and saddened by his death.
'Very sad time'
"He was actually watching the bowls with his son and he came up here to this end of the park for an ice cream, as far as I know," he said.
"I'd see him walking around near his home and he seemed like a nice bloke.
"I can't see how this could have happened."
Residents in the town said Mr Bennett was a former president of the Pudsey Liberal Club.
Club steward Andy Chappell said: "The club, its members, committee and staff all give their condolences to his family at this very sad time.
"It's a sad loss. I wasn't here when he was president but one of my staff members remembers him as a good man who did a lot for the club."
An investigation into the incident has been started by the Independent Police Complaints Commission.
Conservative MP for Pudsey Stuart Andrew said the man's death was "extremely sad news".