Tropical World Morelet's crocodile enclosure completed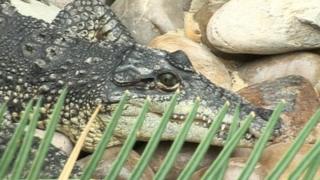 A crocodile enclosure, complete with a viewing bridge, has been completed as part of a £720,000 revamp of a visitor attraction in Leeds.
Tropical World, at Roundhay Park, said the bridge would give visitors a close-up view of its three Morelet's crocodiles, an endangered species.
The attraction, which is managed by Leeds City Council, opened in 1984 and the crocodiles arrived in 2009.
It also houses meerkats, birds, fish, reptiles, monkeys and bats.
The next phase of the project would see the creation of a semi-dark aquarium where colourful tropical fish would be highlighted by ultra-violet lighting, said Leeds City Council.
This work, which is scheduled to be completed by Easter 2014, was described by the council as the most significant since Tropical World opened.
The improvements were funded by the council and a donation from the Ziff family, patrons of the attraction.