Transpennine Real Ale Trail alcohol restrictions introduced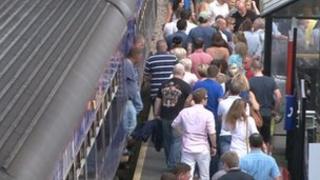 Alcohol sales restrictions have been introduced on a railway-themed real ale trail marred by rowdy behaviour.
The Transpennine Real Ale Trail takes in pubs on or near stations between Batley, West Yorkshire, and Stalybridge, Greater Manchester.
Starting on Saturday, some landlords refused to sell lager, doubles or shots to customers in an attempt to try and reduce binge drinking.
Mike Inman of Marsden's Riverhead Pub said: "It was quieter than normal."
Mr Inman, who owns the West Yorkshire pub, added: "Sales were down, it is the price we are paying."
He said the introduction of restrictions on Saturday "went exactly as we thought" and the pub had seen more locals having a drink.
The voluntary measures were introduced "to try and take the heat out of it", he explained.
'Crowds of drunks'
Martin Guiver, head of crime management for Northern Rail, said Saturday was "slightly quieter than the week before but it does vary from week to week".
He said the anti-social behaviour on the ale trail could be "quite ridiculous" and Northern Rail were managing it like a "major event" at weekends.
Mr Guiver said Northern Rail would continue to monitor the situation and there would be a meeting next month to review the restrictions.
Councillor Donna Bellamy, of Kirklees Council, has previously said hundreds of people could be on each train as it passed along the trail.
She said problems included: "Crowds of drunks, people getting out of hand, vomiting, jumping in the canal and people ending up in the river."
Ms Bellamy hoped the ale trail could return to "what is was meant to be all along, a real ale trail".