Bradford National Media Museum 'will not be closed'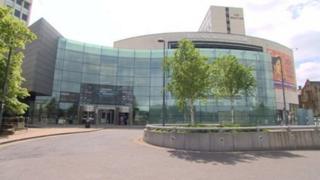 Bradford's National Media Museum will not close, MPs say they have been told.
The city's MPs met Culture Minister Ed Vaizey earlier, and said he told them any closure would be "unacceptable".
George Galloway, MP for Bradford West, said: "We have had a categorical assurance from him that the media museum in Bradford will not close."
The government did not confirm Mr Vaizey's comments but said: "We are clear about the value of the [museum] to the local area and to the UK."
'Rejoice, rejoice'
A campaign to save the museum started after its owner, the Science Museum Group, said it would have to close one of its three museums in the north of England if its budgets were cut by a forecast 10% in the next government spending review.
As well as the Media Museum the group runs the Museum of Science and Industry in Manchester, the National Railway Museum in York and the Science Museum in London.
The assurance about the museum follows a reported agreement between the Department for Culture, Media and Sport (DCMS) and the Treasury that the department's spending will be cut by 8% for 2015-16 and arts and museums will share less of the burden with a 5% reduction.
Respect MP Mr Galloway told BBC Look North: "Rejoice, rejoice, the National Media Museum in Bradford is not going to close.
"It's been saved, and it's been saved by public opinion, by democracy."
Alarm 'regretted'
Bradford East Lib Dem MP David Ward said Mr Vaizey had expressed regret "that it got to the stage that it got to".
"I think it was welcoming for him to regret the alarm that had been caused," he said.
Visitor numbers at the museum have fallen in recent years and Mr Ward and Mr Galloway said all parties acknowledged that something needed to be done to secure its long-term future.
The MPs said there were no discussions or assurances given about the museums in York and Manchester at the meeting.
Hugh Bayley, Labour MP for York Central, said he did not think Mr Vaizey's comments "make any difference at all" to the future of the three museums and he would wait for the outcome of the spending review.