Free parking on Sundays and evenings in Leeds to end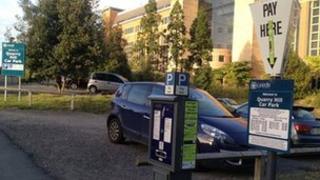 Free parking on Sundays and weekday evenings in Leeds is to end.
The council's executive board has approved plans, which are expected to be put in force later in the year.
On weekdays it will cost £2 to park from 18:00. Sunday fees will apply from 10:00 to 18:00 and will be £1 for up to four hours.
The council said it had reached a "financial point where it had to do things differently" in order to help save nearly £55m in its 2013/14 budget.
A report to the council said it acknowledged charging for a previously free service was not popular.
But it said not introducing fees could mean charging for other council services would be more contentious.
Lights switched off
Councillor Mark Dobson, executive member for environment, said: "We certainly don't underestimate the part that parking has to play in the economy of our vibrant city centre, however we've reached a financial point where we have to do things differently."
The executive board has also agreed to turn off around 8,000 of the city's 92,000 street lights, which will save the authority more than £1m over 10 years.
The lights will be switched off from October and the project is expected to completed by September 2016.
The authority said it would monitor the impact of the switch-off on crime and road safety and if necessary lights would be switched back on.
Councillors have also agreed to start a consultation on bringing in charges for residential parking permits.
It is proposing to charge £50 a year for permits.
At the same meeting held earlier, the go-ahead was given for a regeneration scheme and railway station at Kirkstall.