M62 hen party crash victim Bethany Jones's funeral held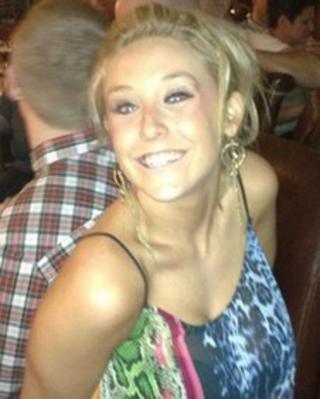 Injured friends of a teenager who died in a minibus crash as they all travelled to a hen party were among hundreds of mourners at her funeral.
Bethany Jones, 18, from South Elmsall, died when the bus and a lorry collided on the M62 in West Yorkshire in April.
Twenty other women on the bus were hurt. Eight of them were seriously injured and face a long recovery.
Six of them arrived at St Joseph's Church in South Elmsall in wheelchairs. Others walked with the aid of crutches.
Mourners were asked to wear pink and gold, Miss Jones's favourite colours.
Among them was Stefanie Firth, whose forthcoming wedding was being celebrated by the women on the day Miss Jones died.
Mourners lined the streets of South Elmsall as the cortege approached the church.
Miss Jones's former school choir sang as the white coffin was carried inside by pallbearers including her brother Ryan, who led tributes during the service.
Victims' fund
Reading a message from their sister Amy, who was also injured in the crash, he said: "My beautiful baby sister.
"I can't begin to explain that I had the most amazing sister in the whole wide world, my best friend forever.
"I will never forget you. We were the same on the inside and out. Love you always, your big sister."
Reading a message from their father Paul, he said: "My little girl - not just beautiful on the outside but stunning on the inside."
Miss Jones, who would have turned 19 last Monday, was among 21 women on the bus heading to a Liverpool hen party on 26 April.
Earlier this month the 62-year-old driver of the minibus was arrested on suspicion of causing death by dangerous driving and bailed while inquiries continue.
The lorry driver, who is from St Helens, was previously arrested on suspicion of the same offence and remains on police bail.
Almost £12,000 from the Beth's Angels fund set up after the accident is being used to support the victims.
The fund was set up by Ms Jones's cousin Mark Larkin, landlord of The Barnsley Oak pub in South Elmsall, where the trainee nurse used to work.
He said: "We've got lots of events planned and we'll carry on raising money for as long as the girls need it. Whatever is left over we'll give to the air ambulance."