Halifax tower block residents feel 'caged in' by works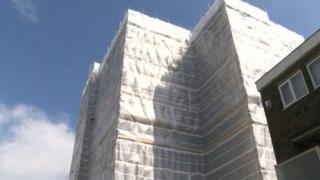 Residents of two tower blocks say plastic sheeting which has shrouded their homes for months has left them feeling like prisoners.
Repair works started at the St James and Albion Court blocks in Halifax in February and will run until September.
Scaffolding and sheeting is covering balconies and windows. Some residents said they felt trapped while others said it was affecting their health.
Social landlord Pennine Housing 2000 described the works as essential.
'Caged in'
The residents, some of whom are housebound, have complained about a lack of natural light and have asked that the sheeting is removed from parts of the building that are not being worked on but have been told that is not possible.
One resident, Jean, who lives on the sixth floor, said: "I feel as though I am living in a cocoon and I feel caged in. I love sitting on my balcony, standing on it at night and I just can't go out."
Another resident, Julie Edwards said: "It's affected my health, my build and my state of mind. I am very bad with my breathing and live with my windows open.
"I can't go out of the flat a lot so I rely on my music for company. The noise is so loud I can't hear my music even with my windows shut."
Amanda Garrard, managing director of Pennine Housing 2000, said: "The safety measures we have put in place are designed to protect residents' homes and wellbeing and the wider public in the locality from being affected by dust and debris from the process.
"We have occasions where people have accessed the scaffolding and cut the protective sheets, which is highly dangerous and we have asked tenants to stay off the scaffolding at all times for their own safety.
"We are dealing with all residents in relation to their specific needs and as a result it has not been necessary to decant people to alternative accommodation, nor to offer any refunds, but we would urge any residents with any further concerns to speak to the staff specifically located at the apartments."