Adam Chadwick murder: 'Search your conscience' call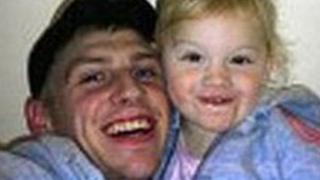 A detective investigating the murder of a man shot dead in Leeds has urged people to "search their consciences" on the fifth anniversary of the shooting.
Adam Chadwick, 20, a father of one, was shot when three masked men and a woman burst into a house in Clifton Mount, Harehills, Leeds on 24 June 2008.
Det Supt Mark Ridley said he believed the answers to who committed the murder were in the local community.
Crimestoppers has put up a new reward to encourage people to come forward.
The charity has offered £5,000 for information which leads to the arrest and conviction of anyone responsible for the murder.
Mr Ridley said: "Adam's daughter Ruby is now eight years old and is having to grow up without a father.
"As she gets older she will also want to know why her dad was killed and who was responsible.
"I know that allegiances can change over time and that people may now be in a better position to tell us what they know.
"I am asking people to search their consciences, to think about what Adam's family are still going through, and to tell us what they know."
On the night of the shooting, a white woman and three black men wearing masks and camouflage clothing came to the door of the house of Mr Chadwick's sister. A disturbance followed during which Mr Chadwick was shot.
The woman is known to have been knocking at other doors in the area before the shooting asking for someone called "Michelle".
The suspects are believed to have used a dark blue Ford Focus C-Max, which had been stolen in the Little London area of Leeds on 11 June.
The car was abandoned close to Reginald Street, Chapeltown the day after the shooting.
Despite extensive appeals, including a reconstruction on the BBC's Crimewatch programme, detectives have been unable to trace the occupants of the vehicle with the registration plate YH54 SBV.
.