Sister of drink-drive victim Jamie Still hands in petition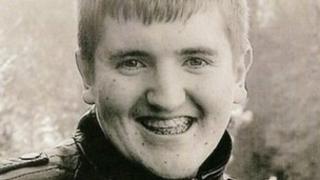 A 15-year-old girl whose brother was killed by a drink-driver has handed a 13,000-signature petition into Downing Street calling for a change in the law.
Jamie Still, 16, died in Otley, West Yorkshire, on New Year's Eve 2010. The driver who killed him was almost twice over the legal alcohol limit.
Rebecca Still is campaigning for an automatic ban for those awaiting trial for drinking and driving offences.
The Ministry of Justice said judges had the power to ban drivers on bail.
'Totally disrespectful'
Max McRae, 21, of Warren Lane, Arthington, Leeds, admitted causing Jamie Still's death by careless driving at Leeds Crown Court in September 2011 and was jailed for four years.
Speaking immediately after the sentencing, the teenager's family said the fact that McRae was able to continue to drive following his arrest was "totally disrespectful to Jamie".
Rebecca Still launched the online petition after describing the law as "stupid".
Jamie and Rebecca's mum, Karen Strong, said: "Rebecca's determination has been incredible. We are all so proud of her.
"She started this campaign by herself, from her bedroom, and we only found out when she told us she was getting so much support on the internet."
The family has been supported by their local Liberal Democrat MP Greg Mulholland.
Mr Mulholland made a speech in the House of Commons calling for a change in the law.
Greater deterrent
A Ministry of Justice spokesperson said: "The decision on whether to impose a driving ban while on bail is a matter for the judiciary, they already have the necessary powers to do this."
Ms Still's petition was presented to Downing Street on the same day a bill was introduced to the Commons calling for repeat drink drivers to be given jail sentences of up to two years.
Introducing the bill, Rehman Chisti, Conservative MP for Gillingham and Rainham, said regular offenders who continue to flout the law needed a greater deterrent.
Mr Chisti said the bill would allow magistrates discretion to refer a third or subsequent drink driving offence to crown court for sentencing.
The bill, which has support from MPs across all three main parties, was brought forward unopposed.
However, it is unlikely to make further progress after its second reading in November without government support.