Kay Mellor in Royal Television Society awards boycott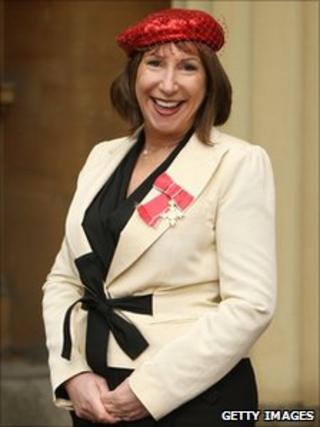 Writer Kay Mellor has offered to return a lifetime achievement award to the Royal Television Society after losing out at its regional awards party.
Leeds-born Mellor was nominated for three awards at the event on 25 June, including best drama for The Syndicate.
She said she was disappointed to win nothing for the second year running and would not attend the event again.
The BBC has approached the RTS for comment. It told the Yorkshire Post it held Mellor in the "highest esteem".
Mellor wrote for soap operas Coronation Street and Brookside before creating several highly-acclaimed dramas including ITV's Band of Gold and Fat Friends.
In 2009 she was made an OBE for services to drama.
The second series of The Syndicate, about a lottery-winning group of hospital workers in Bradford, aired on BBC One in March.
Spielberg praise
She told the BBC she did not feel a sense of entitlement to win an award but was disappointed she received recognition abroad but not from Yorkshire.
Mellor's comments followed an interview in the Yorkshire Post in which she said: "I won't be going to the RTS again or putting any of my team through it.
"We are Yorkshire-based, we shoot in Yorkshire, edit in Yorkshire and put it out and glorify Yorkshire, and when Steven Spielberg saw The Syndicate he asked where it was shot; he said it was amazing. 'It has such a sense of place and geography' he told me.
"Of the six categories in which I've been nominated over the two years it would have been nice to have got just one.
"There is no other way but to take it personally."
Mike Best, chairman of the RTS Yorkshire branch, told the newspaper he hoped Mellor would keep her award.
He said: "It's an acknowledgement and reward for individual skills and certainly in Kay's case to acknowledge the passion, enthusiasm and commitment that she has always brought to the region.
"Although I can sympathise with her disappointment I hope she decides to keep it because it is one she deserves."