New five-acre Whinmoor Cemetery opens in Leeds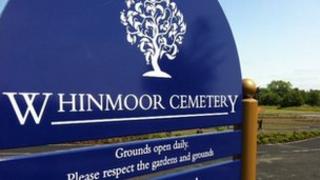 A new multi-faith cemetery in east Leeds has been officially opened.
Work started on the five-acre (two hectare) Whinmoor Cemetery, just off the A64 road, a year ago.
It is the first new burial ground to be opened in Leeds by the city council since 1937, and there is space to extend the site in the future.
A council spokesman said the cemetery would provide enough burial provision for 19 years, or 38 years if a decision was made to extend it.
Labour councillor Mark Dobson, executive member for the environment, said: "With Harehills Cemetery close to becoming full, it was extremely important that positive action was taken to address this problem.
"By moving ahead with this new facility, we have ensured there will now be sufficient provision in the east of the city for the foreseeable future.
"As part of our plan, we are also aiming to extend a number of existing cemeteries."