Shipley stabbings: Community event held at skate park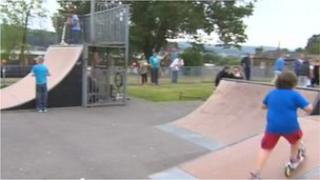 A community event has been held at a skate park in West Yorkshire to reassure children and parents after the stabbing of a nine-year-old boy.
The boy underwent surgery after he was stabbed at the Carnegie park in Windhill, Shipley, on 1 July.
Following the stabbing some parents told the BBC they were scared to let their children use the facility.
Dozens of families took part in activities and watched professional skateboarders at the event.
Youth worker James Stannett, who helped organise the evening, said: "What we wanted to get out of this is positivity, not negativity; for the community to feel safe, for the young people to feel safe in their local park."
Police Community Support Officers and council wardens were also there to talk to parents and children about the incident and give them information about how children can stay safe.
Susan Hinchcliffe, Labour ward councillor for Windhill and Wrose, said she was delighted to see so many people there.
She said: "Just over a week ago the three ward councillors got together and thought 'is anybody ever going to come here again?'.
"[Parents] have been saying this is a really great space and therefore they want their children to use it. Outdoor play is really important for children.
A 26-year-old man has been remanded in custody after appearing at Bradford Crown Court charged with the attempted murder of the nine-year-old boy.
Nathaniel Flynn, of Prospect Mount, Shipley, is also charged with murdering his grandmother, 84-year-old Louisa Denby. He will next appear in court on 22 July.