Calderdale Council to sell Halifax HQ and library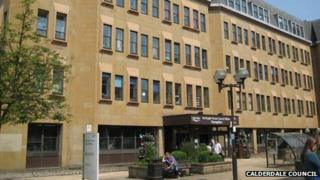 A council wants to sell its administrative headquarters and a neighbouring library in a bid to attract more shops to the town.
Northgate House and the Central Library, in Halifax, will be sold by agents acting for Calderdale Council.
Staff working in Northgate House will be moved to other town centre offices.
Councillor Barry Collins said he hoped the site would attract interest from major retailers and that he was "optimistic" about the sale.
"Reports have told us that Halifax needs larger retailers to attract shoppers and enable smaller independent stores to prosper," he said.
"The Northgate House and Central Library site is an ideal place to build these new larger shops."
The council plans to build a £9.25m library and archive in Square Road to replace the existing facility.
Under proposed plans, it will incorporate the 235ft (71m) Square Church Spire, which was largely destroyed by fire in 1971.
The existing library will remain open until its replacement is completed.
A council spokeswoman said Northgate House and the Central Library would be sold intact by property consultant DTZ, with the developer taking responsibility for their demolition.
She added that it would not select a purchaser before October, adding it was "not appropriate to discuss values".