Figures show maternity ward closures at Yorkshire hospitals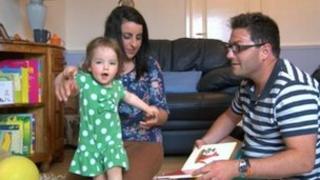 Maternity wards at two Leeds hospitals had to close their doors to women in labour more than 90 days each during one year, figures have revealed.
Figures for June 2011 to June 2012 show pregnant women were turned away on 100 days at Leeds General Infirmary and 92 days at St James's due to full wards.
The figures are the highest out of the 15 maternity units across Yorkshire.
Leeds Teaching Hospitals NHS Trust said if one unit was full women were diverted to its neighbouring facility.
Figures obtained by BBC Look North show maternity wards elsewhere in Yorkshire had closure days ranging from 1 to 30 over the same period.
Wards at Rotherham, York and Scarborough hospitals had no closure days.
Tiana Walker, from Leeds, says she was left feeling angry after being told she could not go to five different West Yorkshire hospitals when she went into labour with her daughter in February 2012.
Mrs Walker had planned to give birth at Leeds General Infirmary (LGI) but that unit was closed along with St James's.
'Demand unpredictable'
She was then told by midwives that the maternity ward at Pinderfields Hospital in Wakefield was shut to new admissions along with Dewsbury and Bradford Royal Infirmary.
Instead an ambulance took her almost one hour away to Airedale Hospital near Keighley.
She said: "It's just not good enough to be told that they haven't got any space for you.
"It just prevented people coming to see us initially and by the time it got to 8pm that evening I said look I just don't want to be here I want to be where all my family are.
"We had to register the birth in Bradford and all the postnatal stuff we didn't get access to so it just made it quite difficult."
Leeds Teaching Hospitals NHS Trust said: "Inevitably at times demand can be unpredictable and if one location gets too busy we have the ability to divert mums-to-be to our neighbouring facility to ensure safe and effective care with the minimum of disruption.
"The number of times we have closed the whole service is low - just four times in the last two years."