Former Huddersfield rugby star's Twitter sacking illegal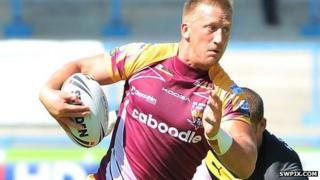 A rugby league star sacked by his club after a photo of a team-mate's bottom was posted on his Twitter account was unlawfully dismissed, a judge ruled.
Super League prop Keith Mason, 31, was dropped by Huddersfield Giants after the photo appeared online last year.
The club claimed the player had committed gross misconduct, despite the image being removed within 48 hours.
But, a judge found "clear evidence" the team fired the prop to clear its books and awarded him damages of £167,000.
The court heard the photo of Scott Moore had been taken during what Mr Justice Saffman called a "communal bender" dubbed Mad Monday - the day when players celebrate the end of the season.
It was later posted onto Mr Mason's Twitter account - which attracted 4,200 followers - by his girlfriend, Lauren Harwood with the message "what the hell is this?".
Pushed out
The player deleted the photo about two days later but club officials said he had not deleted it quickly enough and cancelled his £95,000-a-year salary last October, just one year into his four-year contract.
Mr Mason, who now plays for Castleford Tigers, argued in court that he had been "tainted by dismissal" and his potential earnings had been affected.
He also questioned the the timing of his sacking, as several new prop-forwards had been signed over the summer, claiming he had been pushed out to free up space and money.
The club refuted the claim but Mr Justice Saffman, said there was "clear evidence" the Giants wanted Mr Mason off their books, including emails outlining lucrative transfers to coax the prop away from his team.
He ruled that Mr Mason's actions could not be construed as breach of contract, and as a result his dismissal was wrong.
He said: "I think it's very unlikely that any fan seeing this tweet... would assume that this tweet is condoned by the club."
Mr Justice Saffman also awarded Mr Mason costs of £35,000.