Yorkshire Regiment troops march through Huddersfield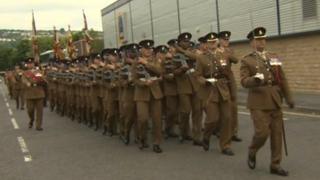 Soldiers from the Yorkshire Regiment have paraded through Huddersfield for the final time before its 3rd battalion is merged.
About 120 troops marched through the West Yorkshire town ahead of a second parade taking place later in Halifax.
Scores of people lined the route from from St John's Road to the town centre.
The freedom parades come ahead of a major Army reorganisation taking place next week, under which the regiment's battalions will be merged.
The Mayor of Kirklees, Martyn Bolt, said: "I am pleased that the regiment have chosen to exercise their right of freedom, showing the historic bonds between our community and the Yorkshire Regiment."
'Historic day'
The Yorkshire Regiment consists of three regular Army infantry battalions and one Territorial Army infantry battalion.
Under the Army's restructuring review, known as Army 2020, the 3rd battalion will be renumbered the 1st, the 1st will become the 2nd and the 2nd battalion (Green Howards) will disappear.
Soldiers from 3rd battalion - formerly the Duke of Wellington's Regiment - will attend a service at Halifax minster later to "lay up" the battalion colours.
Regimental sergeant major Paul Simms said: "It's probably a sad day for some of the old and bold, obviously the Duke of Wellington element of them.
"It's an historic day. We will have a smile in our eye and we will move forward."
The parade marks the end of a week of marches through Yorkshire that has seen troops turn out in Rotherham, Sheffield, Barnsley and Wakefield.
The regiment has freedom honours in 20 cities and towns, including York, Hull and Harrogate.