M62 hen party crash: Minibus driver loses operator's licence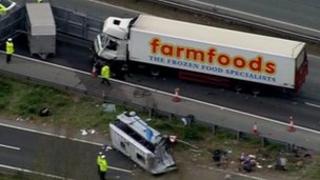 A minibus driver involved in a fatal crash on the M62 has lost his operator's licence after he was found to have been using uninsured vehicles.
James Johnson was arrested and bailed after his minibus, which was carrying a hen party, collided with a lorry on the M62 in West Yorkshire in April.
One of his passengers, 18-year-old Bethany Jones, died at the scene.
Mr Johnson, 63, lost his licence after a public inquiry which heard a wheel fell off one vehicle last October.
The inquiry heard that the Vehicle and Operator Services Agency (VOSA) started an investigation into Mr Johnson's transport operation after the incident.
Vehicles 'dangerous'
VOSA examiner Alan Lodge then found that Mr Johnson, who is from Bradford, had no valid insurance for the vehicles he operated.
After a maintenance investigation Mr Lodge reported a "dire state of affairs", including a badly worn tyre, the inquiry heard.
North Eastern Traffic Commissioner Kevin Rooney disqualified Mr Johnson indefinitely from applying for or holding an operator's licence.
Mr Rooney said Mr Johnson's operation was "one of the worst I have come across".
He said: "Vehicles are so dangerous that wheels have fallen off. There is little documentary evidence of maintenance systems and no evidence to support a contention that relevant documentation has been stolen.
"I find that Mr Johnson has been transporting passengers in vehicles with no valid insurance."
Mr Rooney pointed out that at the time of the M62 collision, Mr Johnson was not driving a vehicle of his own or one operated under his own operator's licence.
Mr Johnson, who was one of 12 people injured in the collision, did not appear at the public inquiry.
However, he submitted a letter which said he no longer wished to retain his operator's licence.
The letter said the crash had left him "in no condition to continue driving and apart from my present incapacity I am approaching the time to retire and do not feel that I will ever be fit enough, or have the wish to continue in business".
Mr Johnson and the lorry driver, who is from St Helen's, were both arrested on suspicion of causing death by dangerous driving.
They remain on bail while police inquiries continue.