Leeds group starts clinic to tackle empty homes problem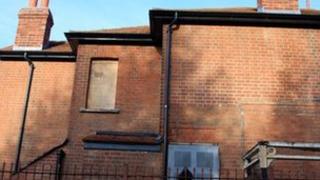 A scheme to bring abandoned homes in Leeds back into use has launched its first "Empty Homes clinic".
Social enterprise Leeds Empties wants to help return the city's 5,000 long-term empty properties to the market.
The clinic, held in Beeston, aims to give property owners advice on how to bring their house back into use.
The scheme has been given £100,000 by Leeds City Council and won the backing of restoration expert George Clarke.
There are about 14,300 empty homes in Leeds - 4% of the whole housing market in the city.
About 26,000 people are currently on the waiting list for council housing.
Gill Coupland, from Leeds Empties said: "Owning an empty property can feel like a millstone and can be a real worry.
"There's lots of good work taking place to tackle Leeds' empty homes problem but we need to do more about the 5000 long-term empties in the city when so many people in Leeds are desperate for decent homes to live in."
The Empty Homes Doctor service aims to help people who have an empty property and want to put it back into use, but do not know what options or support are available.
Leeds City Council said bringing empty homes back into use was a "top priority".
"It is great to see Leeds Empties putting the council funding they have been given to good use in the form of an Empty Homes Doctor clinic," it said.