Dewsbury and Pontefract hospitals downgrade plan agreed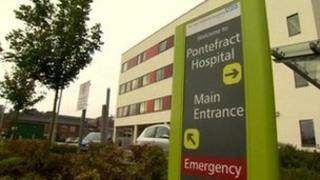 Plans to overhaul services at three hospitals in West Yorkshire have been agreed.
Mid Yorkshire Hospitals NHS Trust is downgrading services at its hospitals in Dewsbury and Pontefract.
All seriously ill and complex patients will instead be treated at Pinderfields Hospital in Wakefield.
The trust said services would be improved. Campaigners had fought against the plans, saying they would increase travel times and damage care.
'Better care'
At Dewsbury hospital, the accident and emergency department will be downgraded with no consultant on the site overnight.
Maternity services at the hospital will become midwife-led, so women with complications will have to travel to Pinderfields for care.
At Pontefract, the accident and emergency department will deal with minor cases only.
More routine surgery will be carried out at both hospitals.
Stephen Eames, the trust's chief executive, said: "It will be better for all of our community in concentrating the complex end of care in Pinderfields.
"So obviously there's a trade-off in terms of the travel and access but that's a trade-off against better care."
'Major cut'
Mike Wood, Labour MP for Batley and Spen, is among those who have campaigned against the changes.
He said: "My concerns are that they are essentially proposals which are financially driven and not patient care centred and what we are looking at is a major cut in resources."
The changes, which will cost the trust £22m to implement, are expected to eventually save it £10m a year.
Dr David Kelly, from the NHS North Kirklees Clinical Commissioning Group, denied the measures were drawn up to save money.
He said: "This is not financially driven, this stems from actual need to change services from a quality perspective, to actually improve patient's lives, this is about saving lives, it's not about money."