Leeds hospitals staff strike again over new shifts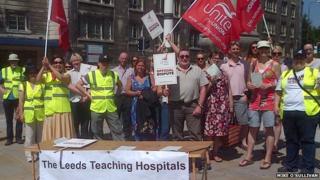 Pathology staff at the Leeds Teaching Hospitals Trust have started a further 48-hour strike in a dispute over changes to working patterns.
The Unite union said switching 142 of its members from normal day working and on-call arrangements to a shift system would be unsafe for patients and staff.
Staff at the trust's three hospitals in Leeds and Bradford held a 24-hour strike on 16 July.
The trust said patient safety was its "top concern".
The proposals affect biomedical scientists and support staff who test blood samples and monitor blood transfusions at St James's Hospital in Leeds, Leeds General Infirmary and Bradford Royal Infirmary.
Pay cuts
Picket lines have been set up outside the three hospital buildings.
Unite regional officer Terry Cunliffe said talks with the trust's management to settle the dispute had broken down.
"The trust continues to impose shift arrangements that are, in the opinion of Unite, unsafe for patients and staff," he said.
"We had offered to reconsider this week's industrial action if the trust withdrew the threat to impose these shifts on our members, but up to [now] it has refused."
Mr Cunliffe said the union had agreed to continue "supplying emergency cover" during the 48-hour strike action, which began at 08:30 BST.
A continuing ban on overtime was in place following the strike action earlier this month, Unite said.
A spokesman for the trust said the proposed new shift arrangements were in line with a "nationally agreed Agenda for Change terms and conditions", which it was looking to implement at its three hospitals.
Trust medical director Dr Yvette Oade said: "Though pathology services are vital in any hospital, most of the treatments we provide do not require them, so most patients should be seen as normal."