A639 Stourton landslip: Road works start after six years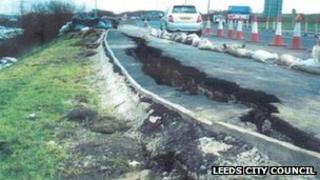 Work has started on a scheme to make a key road near Leeds safe after a major landslip six years ago.
Leeds City Council said it created a "safe" solution to tackle subsidence on the A639 in Stourton, near the Valley Park roundabout.
A 50m green-slope retaining wall, safety barrier and a new drain to the carriageway are being installed to make the site safer, the council said.
The project is expected to be completed in 10 weeks.
A contra-flow traffic system and HGV diversion is in place while drainage works take place over the next two weeks.
Councillor Richard Lewis said: "It is important that the council puts in place measures to ensure the safety of motorists from future landslips in this area.
"There may be some disruption to motorists over this 10-week period, but I would ask people to be patient with us whilst this necessary work takes place."