Dewsbury and Pinderfields neonatal plan 'dangerous'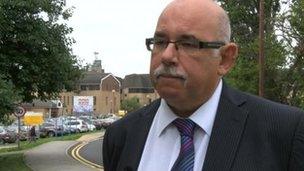 Nurses who treat sick and premature babies at two hospitals in West Yorkshire have said proposed changes to care are "dangerous".
Mid Yorkshire Hospitals NHS Trust's plans could see nursing jobs cut at Pinderfields and Dewsbury and neonatal cots reduced at Dewsbury.
The role of nursery nurse would also be replaced with healthcare support workers at both sites.
The trust said a consultation on the changes was under way.
Under the proposals, the number of special care cots at Dewsbury would be reduced from 12 to eight.
The number of neonatal nursing staff in band five of the NHS pay scale would also be reduced.
The trust said under the plans it would open a four-bed transitional care unit at Dewsbury, which would allow mums and babies to stay together to encourage bonding and breast feeding.
Jim Bell, Unison's regional organiser, said staff thought the proposals were "dangerous and unworkable".
He said: "Members are concerned about the safety of patients, of the babies, but they're also concerned about their own professional status.
"They have a professional obligation which they have to fulfil and if they're not getting proper continued professional development, and working under stress and pressure, they are leaving themselves open to perhaps being accused of malpractice themselves even if it is unintentional."
Lynne Hall-Bentley, associate director at the trust, said: "Patient care is always our priority and therefore delivering the best possible care for babies and their mothers is of the highest importance."
She added: "The ratio of staff to babies will, under the proposals, remain the same as it is currently.
"We would stress that, at this stage of the process, the consultation is still ongoing and no formal decisions have been made."
Related Internet Links
The BBC is not responsible for the content of external sites.