Appeal after WWII medals stolen in Pontefract burglary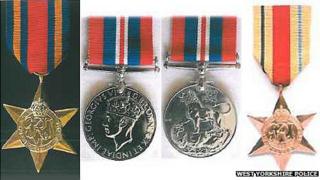 Six World War II medals have been stolen from the home of an elderly man in Pontefract, police have said.
The medals were taken during a burglary at a house on Highfield Avenue between the evening of 30 August and the early hours of 31 August.
The stolen medals are a 1939-45 Star, a War Medal, an Atlantic Star, an African Star, a Pacific Star and a Burma Star.
The medals were all awarded to the man for his service during World War II, West Yorkshire Police believe.
Anyone with information about the theft is asked to contact police.