Stainland drinks carton recycling plant opens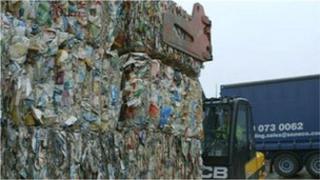 A facility to recycle drinks cartons from all over the UK has opened.
The plant at Stainland, West Yorkshire, is the first of its kind in the country, according to the Alliance for Beverage Cartons & the Environment (ACE) UK.
Drinks cartons have previously been sent abroad to be recycled.
ACE UK, representing firms including Tetra Pak and Elopak, said the plant could recycle up to 40% of the cartons produced for the UK each year.
Environment minister Lord de Mauley said it was an "exciting development".
"I'm delighted to see businesses working together to improve our ability to recycle more here in the UK," he said.
The plant will process drinks cartons to enable them to be turned into "industrial-strength coreboard" at paper manufacturer Sonoco Alcore's neighbouring paper mill.
ACE UK said cartons collected in 180 local authority areas would be recycled at the West Yorkshire facility.