Pinderfields and Dewsbury hospitals' elderly care criticised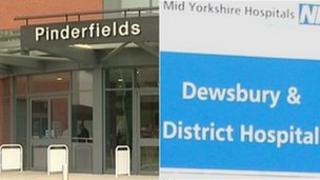 The standard of elderly care at two hospitals in West Yorkshire has been criticised by the health watchdog.
The Care Quality Commission (CQC) said elderly patients at Pinderfields and Dewsbury hospitals were not always receiving the best care or treatment.
The shortfalls were "a real concern", said the CQC.
Mid Yorkshire Hospitals NHS Trust chief executive Stephen Eames apologised and said "swift and rigorous" action had been taken to put things right.
'Variable care'
Inspectors from the CQC visited Pinderfields and Dewsbury hospitals over a three-day period between 28 and 30 May.
Debbie Westhead, from the CQC, said while inspectors had found many areas of "good, compassionate care" at both hospitals, they also had concerns over one elderly care ward at Pinderfields and two at Dewsbury.
Inspectors found some patients were not dressed appropriately to protect their dignity, call bells were not always answered in a timely manner, and patients eating meals were not always supported by staff, said Ms Westhead.
Some patient care plans were also of poor quality, contained incomplete information and were difficult to follow, CQC inspectors found.
"The level of care was variable. We did receive some positive comments but we also observed some care practices we did not consider appropriate," said Ms Westhead.
'Apologise personally'
Mid Yorkshire Hospitals NHS Trust said while no harm had been caused to patients, work was being carried out at both hospitals to address the CQC's concerns.
A "comprehensive programme" to raise standards in elderly care at the two hospitals had already been launched before the CQC visit but had now been intensified, the trust said.
"I apologise personally, if this has resulted in even one person receiving poor care and can assure people we have taken swift and rigorous action to put things right," said Mr Eames.
Inspectors will return to both hospitals in the near future to check the necessary changes have been made, the CQC said.