Bradford's swimming pools set to get £17m revamp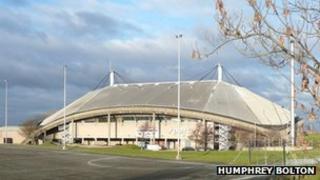 A £17m plan for a new city centre swimming pool and three further community swimming pools in Bradford has been unveiled by the council.
Three swimming pools in Bingley, Bowling and Queensbury would close if the plan is agreed.
The Richard Dunn sports centre at Odsal, dubbed the city's "highest and most inefficient consumer of energy" in the report, would also close.
The plan said no pool would close until alternative sites have been built.
The report said the preferred option including a city centre facility with a 25-metre pool, diving facility, squash courts and a dance studio would contribute to the regeneration of Bradford.
'Sad loss'
It also stated replacing "outdated pools" with new facilities would allow the council to increase income and reduce operating and maintenance costs.
John Pennington, a Conservative councillor for Bingley, said about the possible closure of his local pool: "It would be a sad loss for Bingley and I sincerely hope it doesn't close."
He added the pool was used "an awful lot " but was "well past its sell-by date".
The exact location of any new pools to be built in north, south and south west Bradford under the plan has yet to be announced.
The council currently operates nine swimming pools around the district at Bingley, Bowling, Richard Dunn, Eccleshill, Ilkley, Keighley, Queensbury, Shipley and Tong.
The report is to be considered at a meeting of the council's executive on 17 September.