Bradford's swimming pool closure plan moves ahead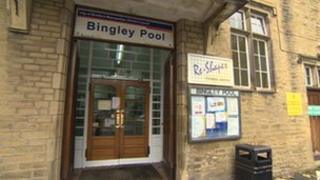 A plan to replace four swimming pools in Bradford with new facilities has moved forward.
Bradford Council said closing pools at Bingley, Bowling, Queensbury and Odsal would cut operating and maintenance costs.
It said it would invest £17m in building a new city centre pool and three community pools but has not said where the new facilities will be.
Campaigners had urged the council to refurbish the existing pools instead.
Jag Picknett, from Bingley, said the pool in Bingley was a vital community hub.
She added: "It could become something fabulous if a bit of time and effort was spent on refurbishing it and getting the community involved."
The Labour-run council said it would not close any pools until new facilities had opened and the proposal remains at an early stage.
Councillor Andrew Thornton said: "This is about building and opening new pools and only when they are open would we look at closing older and outdated pools.
"We are going away now to do the detailed planning work and then we will come back with detailed proposals.
"The aim is to have an eye on the future and make sure we have fit-for-purpose sports facilities."
The council currently operates nine swimming pools around the district at Bingley, Bowling, Odsal, Eccleshill, Ilkley, Keighley, Queensbury, Shipley and Tong.