'Starved' Hamzah Khan's father asked police to intervene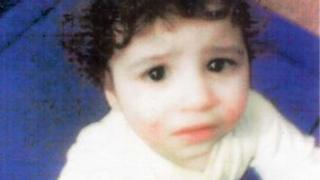 The father of a boy who allegedly starved to death asked police to "keep an eye" on his mother, a court heard.
Amanda Hutton, 43, from Bradford, denies the manslaughter of her son Hamzah Khan, whose body was found in a cot almost two years after he died.
Bradford Crown Court has heard the four-year-old boy was found in a "mummified" state in September 2011.
On day three of the trial, the jury heard police were called to Ms Hutton's home eight times before his death.
Jurors also heard Hamzah's brother Qaiser Khan, 22, say he had seen his young sibling eating the contents of his own nappy and sleeping in a buggy that smelled of urine.
'Get a doctor'
Details of a police interview conducted with Hamzah's father Aftab Khan recorded in December 2008, a year before the child's death on 15 December 2009, were read to the court.
Mr Khan had been arrested on suspicion of violence towards his former partner, Ms Hutton, but told officers: "You've got to keep an eye on that woman.
"All I want you to do is get a doctor to check Hamzah, check how undernourished he is, check how neglected he is, see how he is. "
Jurors also heard how Mr Khan told police Ms Hutton was an alcoholic and there were vodka bottles all over the house.
He said she would not let him take Hamzah to a doctor and that she was "overpowering" and "an alcoholic".
In the interview he warned police: "When it all comes out I'll come back and see you and say I told you so... you guys are not listening."
Mr Khan also told officers he would contact social services. The court was told that there was no record of a phone call being made to social services.
'Appeared neglected'
The jury also heard that officers from West Yorkshire Police visited Ms Hutton's home but no further action was taken.
Qaiser Khan initially refused to answer any questions put to him in court but was told by the judge he was obliged to give evidence.
He told the court how he went to the house between December 2008 and March 2009 and saw Hamzah sleeping upright in a urine-soaked buggy that "stank".
Qaiser Khan said his brother was left in a dirty nappy and he saw him eating the contents.
"Hamzah appeared neglected," he said.
The court heard he had sent a text message sent from his phone to Hutton in December 2008 saying he would report her for child neglect and abuse.
Qaiser Khan said he did not remember sending it.
Asked by Stephen Meadowcroft QC, defending, if he was exaggerating what was happening at the house because he had a bad relationship with his mother, he replied: "I've seen this with my own eyes."
The trial continues.