Hamzah Khan's father rejects 'wife batterer' claims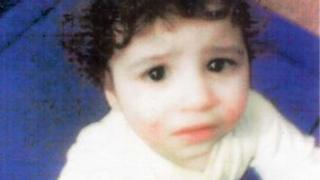 The father of a boy whose body was found "mummified" in his mother's bedroom has rejected claims in court he was a "wife batterer".
Aftab Khan's four-year-old son Hamzah was found in a cot in September 2011, almost two years after he died.
Hamzah's mother, Amanda Hutton, 43, of Bradford, is on trial for manslaughter, which she denies.
Mr Khan told Bradford Crown Court he had separated from Ms Hutton after he was charged with assaulting her.
The jury heard he was initially stopped from visiting his former partner due to a court order, but did start to go and see his son when they moved to a new home in Bradford in March 2009.
Prosecutors argue Hamzah Khan was severely malnourished and had starved to death in December 2009.
Mr Khan told the court Ms Hutton was not looking after Hamzah properly.
'Absolutely out of it'
"I said 'look at the state of him - you're not looking after him' and she told me to get out," the mechanic and taxi driver said.
He told the jury: "She wasn't bathing him. She wasn't changing him."
Mr Khan said Ms Hutton drank cider and vodka heavily, especially after the death of her mother.
"She'd be absolutely out of it," he said.
Mr Khan told the jury he contacted social services once about the condition of Hamzah but said he was ignored.
Last week the jury heard details of a police interview Mr Khan gave when he was arrested for attacking Ms Hutton in 2008, in which he said he was going to contact social services about his son.
A senior police officer told the court there was no record he ever made the call.
Paul Greaney QC, prosecuting, asked Mr Khan whether he did contact social services.
He said: "They said it was a private matter.
"Social services are never bothered about cases like this."
Pressed by Mr Greaney, he added: "I clearly remember. There's no record of it.
"They weren't bothered, they weren't interested. I'd given up at that time."
'The system failed'
Defending Ms Hutton, Stephen Meadowcroft QC told Mr Khan: "You were a wife batterer and she was a battered wife, cowed by your violence."
Mr Khan said: "If I was a wife batterer why am I not standing next to her?"
The barrister put it to Mr Khan that he had been violent towards his client throughout their 20-year relationship, but he denied this.
"I've come here to answer questions about my child," Mr Khan said.
Mr Meadowcroft told him: "You were the father of the family. You were there.
"What did you do about it?"
Mr Khan told the court: "The police wouldn't believe me. No-one would believe me.
"I know I made one phone call. If the police weren't going to believe me, who else is going to believe me? I gave up.
"The system failed my son. Did the school check up? Did social services check up? I lost my total confidence in the system."
'Whatever's lying around'
A former girlfriend of Hamzah's older brother Qaiser Khan also took to the stand on the fourth day of Ms Hutton's trial.
Deepinder Kaur, 24, told the court Hamzah did not eat very much.
She said during the day he would eat "biscuits or whatever's lying around".
Miss Kaur said despite being nearly four at the time, in February 2009, "he looked like a baby" and would often wear a baby grow.
Another witness, PC Maria Furness of West Yorkshire Police, told the jury she performed a welfare check at Ms Hutton's house about eight months before Hamzah's death, but found him to be "fed well, clean, healthy looking and there was an appropriate adult in the address".
The trial continues.