Hamzah Khan death: Boy's diet was 'grossly inadequate'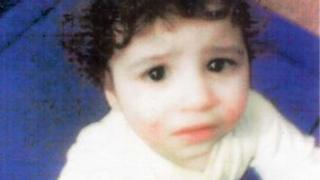 A four-year-old boy whose mummified body was found in his mother's bedroom had a "grossly inadequate" diet and may have starved to death, a court heard.
Hamzah Khan died in Bradford in 2009. His body was found 21 months later.
A forensic pathologist told Bradford Crown Court a baby-grow Hamzah was wearing that was made for a six to nine-month-old infant looked too big.
Dr Matthew Lyall said the boy suffered from profound osteoporosis. His mother Amanda Hutton, 43, denies manslaughter.
Dr Lyall told jurors he examined Hamzah's body in the cot where he was found.
No injuries
He described the body as being in a state of "advanced mummification". The court heard the child was still holding a toy.
When asked whether the baby-grow fitted Hamzah, Dr Lyall told jurors, "No, I actually thought the baby-grow looked slightly too big for the body."
Jurors were told that determining a cause of death was difficult due to the decomposition of the body. There were no signs of trauma to the head and neck, no stab wounds or fractures to ribs, they heard.
Dr Lyall told the court Hamzah's osteoporosis "was due to malnutrition and that there was no other credible explanation".
However, jurors were also told that a second forensic pathologist who examined Hamzah's body said the four-year-old could have suffered from rickets or scurvy.
Accused wept
The court was told further tests on Hamzah's body found his diet was "grossly inadequate" and that for one or two years before his death his diet lacked protein.
Dr Lyall said: "It's reasonable to conclude Hamzah was suffering from malnutrition and it was entirely possible that starvation could have contributed to his death."
Ms Hutton wept during the evidence and covered her face with her hands.
The court previously heard she told police Hamzah was a difficult child and would refuse to eat but she thought she could handle it.
She also told officers she did not seek help for her son because she had a fear of doctors and hospitals.
The trial was adjourned until Friday, when jurors were told they would hear further medical evidence.
Ms Hutton is expected to take to the witness box in her own defence on Monday.