Funding boost for Leeds station improvement plan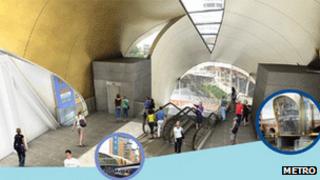 Transport projects across West Yorkshire, including improvements to Leeds city railway station, have been given a funding boost.
More than £12.5m will enable work to start on a new south entrance, concourse and extra station parking.
Funding has also been given for the development of electric vehicle charging points across West Yorkshire.
The money has been approved by West Yorkshire Integrated Transport Authority.
Improvements to the city's railway station are in response to a predicted rise of more than 60% in the number of people using Leeds station between 2011 and 2029.
Network Rail, which owns and runs Leeds city station, claims the changes will ease passenger congestion.
It is hoped the work will start later this year.
The transport authority also approved cash towards a number of other schemes including work to make Metro's yellow school bus vehicles greener.