Amanda Hutton 'threatened eldest son' after Hamzah Khan death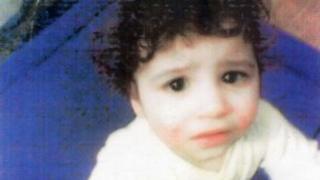 A mother who allowed her four-year-old son to starve to death told his older brother not to tell anyone or she would kill his siblings, a judge has heard.
Alcoholic mother-of-eight Amanda Hutton is being sentenced for the manslaughter of her four-year-old Hamzah Khan.
His mummified remains were found in squalid conditions at their Bradford home in 2011, 21 months after he died.
The judge is hearing submissions from the prosecution and defence before he decides Hutton's sentence.
The court is also hearing details of the involvement with the family of agencies including social services and the police.
Tariq Khan, one of Hutton's two adult sons, has admitted preventing the burial of Hamzah's body and will also be sentenced later.
Packed courtroom
The judge, Roger Thomas, the Recorder of Bradford, heard Khan told police during interviews that his mother had threatened to kill her other children to prevent him from calling the authorities after Hamzah's death.
Tariq also told probation officers how his mother held a knife to the throat of one of the children two days after Hamzah's death.
He also said his mother threatened to burn down the house, the court heard.
The judge was told that one of Hutton's neighbours alerted social services to her concerns about the family in March 2011, but her actions did not result in Hamzah's body being found.
Paul Greaney QC, prosecuting, said the woman had observed children crying and not being comforted, threatening voices towards the children, blinds never being open and children not playing outside.
In a text message the woman wrote about her anonymous call to social services, she wrote: "Better to be safe than sorry."
Mr Greaney told the judge the history of what happened after this was "complex", but social services, education services and the police "were all involved to a greater or lesser extent".
He said a serious case review into Hamzah's death was under way.
The prosecutor said whatever was or was not done by the relevant agencies "should not detract from the shocking and disgraceful conduct of Amanda Hutton involving six of her children".
"She killed Hamzah, no-one else," he said.
BBC Look North reporter Dave Edwards said the interest in the case was such that the courtroom was "so full that security guards have been drafted in and people are being turned away".
Hutton is being sentenced for manslaughter, child neglect and preventing the burial of Hamzah's body.
The child neglect charges relate to each of Hamzah's five siblings living at the house, who were aged between five and 13 in 2011.