Leeds to York rail electrification bid launched in Harrogate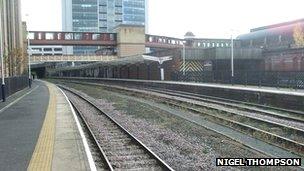 A bid to improve train services on the Leeds to York line by electrification before the end of the decade has been launched in North Yorkshire.
The scheme would double the frequency of services on a line which has seen a 20% increase in passenger numbers over the last five years.
It would also mean a faster, more comfortable journey, campaigners claim.
Brian Dunsby, of Harrogate's chamber of commerce, said: "We have been working on this important plan since 2008."
Mr Dunsby, the chamber's chief executive, added: "We have a very high chance of success, the scheme has a high benefit-to-cost ratio".
Andrew Jones, Conservative MP for Harrogate and Knaresborough said he knew from his postbag that commuters and other rail users would welcome "this dramatic change in our rail services".
Richard Allan, for Northern Rail, said: "The Harrogate line has seen a number of improvements in recent years and passenger numbers have continued to grow.
"We welcome any improvement that would improve customers' journeys and reduce their travel time."
Related Internet Links
The BBC is not responsible for the content of external sites.