Bradford transsexual asylum seeker fears abuse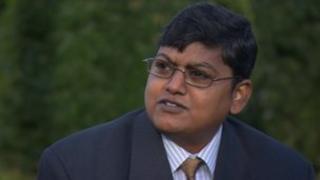 A transsexual who fled to the UK from India after being exposed is facing deportation - a move he says will leave him open him to discrimination.
Sameer Neelam, who was born female but lived in secret as a male, said he suffered violence and harassment after being "outed" by the Indian media.
He sought asylum in Bradford, but now faces being returned to India where he fears he will have to live as a woman.
The Home Office said it could not comment on active legal proceedings.
Speaking to BBC Look North Mr Neelam said: "Here I'm considered as what I am. In India I can't dress like this. Nobody counts me as a man.
"If I open myself as a man in India I will be looked down on, tortured, discriminated, eliminated."
Double life
Mr Neelam was a prominent local official in Hyderabad, in India, but in private he lived as a man with another woman. He has not undergone surgical procedures.
He said after his double life was uncovered he wanted to kill himself, but since moving to the UK he had been able to live openly as a man.
"I can't even get a job if I started living as a man there," he said.
"I'm enjoying my life as a man and if somebody calls me 'Mr' or says 'he' I feel energetic."
'Life very hard'
Stephen Whittle, professor of equalities law at Manchester Metropolitan University who went through transition from female to male in 1975, said Mr Neelam's story was uncommon.
He said: "It's quite an unusual situation in the sense that we do not often get people making it all the way to the UK to apply for asylum
"For many transgender people in their home countries life is just very hard.
"In fact inevitably they do not ever manage to transition and have their gender reassigned. It's as it was here 40 to 50 years ago.
"I can see in Sameer's story very much a reflection of the story of what it was like in England [when I transitioned in 1975] but of course we've moved on so much more and the rest of the world is still lagging behind and has to be dragged along."
According to government guidelines on asylum applications from transsexuals an applicant "may claim asylum when he or she fears persecution on account of his or her actual or perceived gender identity which does not, or is deemed not to, conform to prevailing political, social or cultural norms in his or her country of origin."
A spokesperson for the Home Office said: "The UK has a proud history of granting asylum to those who need it and applications are carefully considered before a decision is made.
"It would be inappropriate to comment further while legal proceedings are ongoing."
Mr Neelam is expected to find out whether he will be deported in the coming days.