PC Broadhurst detective says police in 'more danger' than decade ago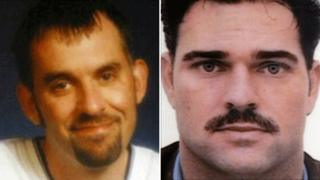 The former detective who led the inquiry into the murder of a policeman shot ten years ago has said officers face greater dangers than ever before.
Chris Gregg said criminals had become increasingly likely to use potentially lethal force against police.
He was speaking on the tenth anniversary of the shooting of PC Ian Broadhurst by David Bieber in Leeds.
Tributes to PC Broadhurst took place at the scene of his death in the Fernville area.
Former Det Ch Supt Gregg said the shooting "was a profound day in West Yorkshire Police's history".
"Up until that day, there had not been a police officer murdered on duty for nearly 20 years."
Mr Gregg, the former head of West Yorkshire Police's Homicide and Major Enquiry Team, said he had hoped the murder would have been a "turning point" for improvement but instead "things have got worse".
"We have to look at the number of murders of police officers on duty - but it's the brutality of those murders that alarms me," he said.
'Double the sentence'
PC Broadhurst, 34, and his colleagues PC Neil Roper and PC James Banks were shot by former US marine Bieber after they noticed his vehicle was displaying false number plates while parked on Dib Lane. PCs Roper and Banks survived the shooting.
Bieber was found guilty of murder and attempted murder and sentenced to three life sentences with a recommendation that he should never be released.
The judgement was overturned in July 2008 by the High Court which ruled he should serve a minimum of 37 years in prison before being considered for parole.
Within two years of PC Broadhurst's death, PC Sharon Beshenivsky was killed while on duty in Bradford.
Earlier this month, PC Suzanna Hudson was shot and seriously hurt while attending a call in Headingley.
Mr Gregg said criminals caught carrying weapons should be handed tougher sentences.
"It's a mandatory five years imprisonment for a criminal unlawfully carrying a firearm.
"In reality they're serving two-and-a-half years.
"If that doubled to a mandatory ten year sentence then they'd serve five years - to me that's much more of a substantial sentence that would be a deterrent."