M62 coach bombing 40th anniversary marked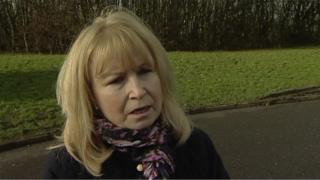 A woman whose brother was killed in a coach bombing in West Yorkshire 40 years ago has said his death still feels "raw".
Terence Griffin was one of 12 people killed on 4 February 1974 when a bomb went off close to the Hartshead Moor service station, near Huddersfield.
His sister, Maureen Norton, from Wigan, said she tried not to think of those responsible but had not forgiven them.
The bomb was suspected to have been the work of the Provisional IRA.
Mrs Norton said: "Even though it is 40 years it is still quite raw, as raw as ever really.
"I wouldn't say I have forgiven and I wouldn't say I was filled with hate either. I decided I didn't want Terence's memory tarnished with any bad feelings or hate.
"I just try not to think of the perpetrators. They were never brought to justice but I don't want them to rule my life."
The coach was carrying army personnel and their families from Manchester to Catterick Garrison, North Yorkshire.
It was travelling eastbound along the M62 in West Yorkshire when the bomb exploded in the coach's luggage compartment just after midnight.
Cpl Terence Griffin, 24, Gunner Leonard Godden, 22, Signalman Michael Waugh, 23, Signalman Leslie Walsh, 17, Signalman Paul Reid, 17, L/Cpl James McShane, 29, Fusilier Jack Hynes, 20, and Fusilier Stephen Whalley, 18, all died in the blast.
Cpl Clifford Haughton and his wife Linda, who were both 23, and the couple's two sons Lee, five, and Robert, two, were also killed.
A memorial service for the victims is held each year at the memorial garden at Hartshead Moor service station.
Judith Ward was convicted of the bombing in 1974 but was freed by the appeal court in 1992.