Wakefield Council to cut jobs and services and raise tax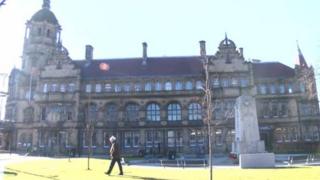 Wakefield Council is to cut 1,400 jobs and raise council tax by 2% as part of plans to save £61m over the next two years.
The authority said "the savings are required as a direct result of government cuts".
Labour leader of the council, Peter Box, described the financial situation as "the worst I've ever known".
The government said it had provided a "fair settlement to every part of the country".
Under the budget proposals, adult social services' budget will see a reduction of £30m over the next two years.
Other areas facing cuts include children services which will lose £5m next year and a proposed saving of £8m as a result of a change in the way bereavement services are organised.
The authority also plans to reduce the maintenance of parks and open spaces and scale back CCTV coverage in the city.
'Sustained attack'
The Department for Communities and Local Government (DCLG) said its changes to local government finance "now puts councils in the driving seat".
"There is still immense waste across the public sector," a DCLG spokesman said.
"Councils have real scope for further sensible savings to freezing council tax, pay off the inherited and still support frontline services."
Mr Box said that government claims that money could be saved by greater efficiency was "not a tenable position".
"What we are seeing, in my opinion, is a sustained attack on local authorities from this government," he said.
"What I get angry with is the fact that government don't seem to understand that we are efficient and what we have to do now is to get rid of services."
"We've got to make savings of £23m this year and £38m in 2015.
"There is no way you can do that without cutting some services and affecting many others."
The budget will be discussed by the council's cabinet next week.