Ghost signs: Echoes of Leeds' history hiding in plain view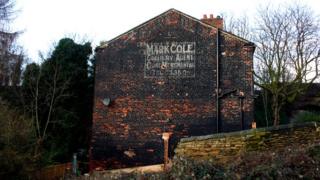 They are hiding in plain view - the 'ghost signs' on the street corners of Leeds that have outlasted the company or product they advertise.
In some of the city's oldest areas, they are rife, peppering buildings once at the heart of their neighbourhoods, quietly reminding us how business and industry has changed.
On the corner of Burley Road, the appropriately named Mark Cole advertised his services as a coal merchant - his livelihood, though defunct decades earlier, is still visible to passers-by.
Further up the road in the heart of the student community, the promise of sweets and stationery above the door of an end terrace reveals how it began life as a newsagent.
A selection can been seen here, but which signs have you spotted where you live? Send your pictures and comments to england@bbc.co.uk.
They are the fading reminders of a different era, says Sam Roberts, who has developed an online archive of ghost signs for the History of Advertising Trust.
"They are representative of going to your local bakers or butchers to do your weekly shop rather than the supermarket and this was the medium with which to advertise their business," he said.
While some signs record a way of shopping that has since declined, others speak volumes about the way advertising has changed.
The National Health Service - in its infancy during the decline of hand-painted signs - found a way to promote itself by advertising with chemists, going on to become a British institution.
Conversely, tobacco advertising, which was once commonplace, has now disappeared from public view following a government ban.
While some brands have faded into quaint obscurity, others have stood the test of time, including Leeds' institution, the Yorkshire Evening News.
But while the newspaper has since experienced a minor name change, other signs show how brands have evolved.
An advert for Bryant and May's 'Puck Matches' remains on a street corner in Harehills.
On closer inspection, it is a prime example of a palimpsest - a sign which has been overwritten.
Mr Roberts said: "If you look closely at the word 'Puck,' you will see in the background the remains of an old sign which says 'British matches, British homes.'
"It may be that they had an old sign, and someone at Bryant and May said, 'Let's have a little mascot', so they repainted the sign.
"It's still the same brand, but historically there were at least two signs on this location."
Hand-painted signs enjoyed their heyday in the 1920s and 1930s when homeowners used to make money by renting a gable end to advertisers.
But they were squeezed out by billboard technology in the 1950s and 1960s.
In some cases, however, the use of modern advertising has protected some of these striking signs from disappearing completely.
Mr Roberts said: "Bile Beans laxative pills was a big national brand. It looks like it was for a long time covered with something and then whatever was covering it was removed, leaving this incredibly well preserved fragment of the main sign."
In an ever changing city, many of these ghost signs fall prey to the developer's bulldozer.
But Mr Roberts sees no reason to be sentimental about it.
His advice is to look up, take the train and sit on the top deck of the bus, while there's still chance to spot these vestiges of accidental art.
"For every one that's lost, another one is revealed when a building gets demolished or a billboard comes down," he said. "They're part of this ever changing urban landscape.
"I don't think we should get too hung up on losing them, let's enjoy them while they're around."