Bradford Moor residents given 'fat vats' to stop sewer blockages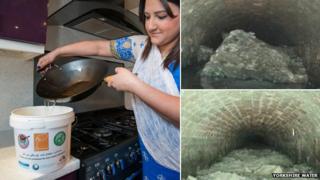 People in part of West Yorkshire are pouring used cooking oil into "fat vats" to try to stop sewer blockages.
Eighty-five homes in Bradford Moor have been given the tubs by Yorkshire Water, which said the area had had more than 80 blockages in the last five years.
The tubs are collected and emptied, with the oil used to create energy.
Yorkshire Water said it had spent £2.3m improving Bradford Moor's sewerage system last year but needed residents to play their part.
Network protection technician Duncan Woodhead said the main cause of the blockages had been cooking oil being poured down sinks.
"A lot of people don't realise the damage this can do because these liquids solidify when they get down to the sewers and that can cause blockages," he said.
Once the waste oil is collected it is refined into a bio-liquid by renewable energy firm Living Fuels and used to create electricity.