Missing Malaysia plane: Hull University concerned about student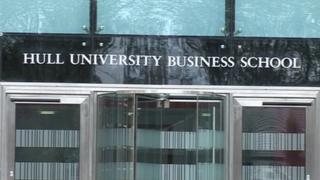 The University of Hull has said it is deeply concerned about reports one of its postgraduate students could have been a passenger on the missing Malaysia Airlines flight.
Flight MH370 went missing on 8 March along with 239 passengers and crew.
Passenger Yue Wenchao, 26, was one of 153 Chinese nationals on board.
The university said it had a student of the same name and age registered at its business school, but could not confirm it was the same man.
Registrar and secretary Jeannette Strachan said: "We are deeply concerned to hear that Yue Wenchao, a student in the final stages of his MSc degree with Hull University Business School, may be among the passengers on board the missing Malaysia Airlines' flight.
"Although we are not able to confirm these reports at this time, our thoughts are with the friends and relatives of all those affected."
A university spokeswoman added that Mr Wenchao was not based on campus and was not currently living in Hull.
About 25 countries are involved in looking for the plane, which disappeared on its way from Kuala Lumpur to Beijing.