Poor care 'resulted in North Yorkshire baby's death'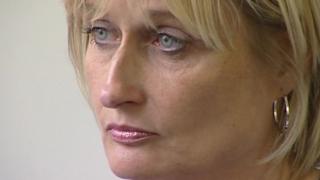 A hospital has admitted failings in medical care and poor communication resulted in a child being stillborn.
Parents Deborah and Richard Horner, from North Yorkshire, expected their daughter Abbie would be delivered at St James' Hospital in Leeds in 2011.
A midwife in charge of Mrs Horner's care was suspended by the Nursing and Midwifery Council and later retired.
Leeds Teaching Hospitals NHS Trust admitted liability and said the care offered "fell short of high standards".
'Living nightmare'
Mrs Horner's pregnancy was considered "high risk" because of her age - she was 43 at the time - and she had previously suffered a miscarriage.
On 17 August 2011 the couple's daughter Abbie was delivered stillborn in an emergency Caesarean section operation at the hospital
But the care given to Mrs Horner and her baby leading up to delivery was "far short of the high standards of care we normally provide", the hospital trust admitted.
Mrs Horner, 46, said: "It's as hard today as when I had Abbie, it doesn't get any easier
"I want them to make a formal apology, it's horrendous, it's a living nightmare, it never goes away, it's never going to get any better
"We just want to stop it happening to someone else."
An investigation by the hospital revealed misinterpretation of a foetal heart trace reading and inadequate and inaccurate record keeping.
Julian Hartley, Chief Executive of Leeds Teaching Hospitals NHS Trust, said: "The events leading up to the loss of Abbie fell far short of the high standards of care we normally provide and for this I am very sorry.
"A full investigation led by a senior doctor was undertaken into the failure to recognise and escalate concerns in the labour care.
"This report has been shared with Mr and Mrs Horner and I can reassure them that we are committed to using this to ensure we learn from every aspect of what happened.
"Quite rightly our clinical staff have to be accountable for their actions.
"The midwife concerned was immediately removed from practice and referred to the local supervisory authority midwifery officer.
"Subsequently she chose to retire so is no longer employed by us."