Tour de France Leeds countdown clock delayed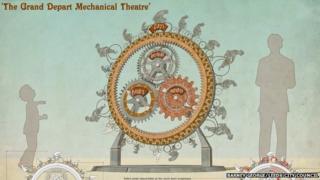 A clock showing the countdown to the Yorkshire stages of the Tour de France will not be ready until May.
The clock was due to be unveiled on Thursday but Leeds City Council said the delay was due to the intricacy of the chosen design.
The Labour-run council launched a competition to design the clock to be displayed at the city's Trinity shopping centre in January.
The winning design was developed by theatre designer Barney George.
"The original plan was to have the clock in place in time to coincide with 100 days to go to the Grand Depart but such is the intricacy of the design and the level of precision required of the metal and woodwork detailing it will now be unveiled later in May," the council said.
The clock, known as "The Grand Depart Mechanical Theatre", is being built by students from the University of Leeds School of Mechanical Engineering.
The design is intended as a celebration of cycling inspired by the mechanics of a bicycle itself.
It features a giant steel cog with a range of moving miniature cyclists using all kinds of machines, from penny farthings to modern race bikes on its outside.
The council has not indicated how much the clock has cost to build.