No action in ex-police chief Bettison 'theft' case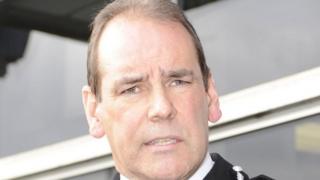 No action will be taken against former chief constable Sir Norman Bettison over the alleged theft and handling of a quantity of platinum, the Crown Prosecution Service has confirmed.
An investigation by Derbyshire Police ruled that there was no case to answer.
A claim had been made that Sir Norman was involved in the sale of platinum wire in 1987 when he was an inspector with South Yorkshire Police.
The matter was passed to the Crown Prosecution Service to review.
'Fresh review'
In a statement issued on Friday, the CPS said: "An investigation was undertaken by Derbyshire Police in 2013, at the request of South Yorkshire Police, into the alleged theft and handling of a quantity of platinum by Sir Norman Bettison in 1987.
"Derbyshire Police recommended to South Yorkshire Police in July 2013 that no further action be taken and subsequently South Yorkshire asked the Crown Prosecution Service to confirm this recommendation was correct.
"We have completed a fresh review of the evidence and decided that there is insufficient evidence to prosecute.
"An essential legal element of the alleged offences is that the prosecution must be able to prove that the goods in question were in fact stolen. There was insufficient evidence to establish this and as such a prosecution for theft or handling stolen goods is not possible. Should any further evidence come to light we will, of course, consider it."
Sir Norman resigned as chief constable of West Yorkshire Police in 2012. He is also a former chief constable of Merseyside Police.