Service marks end of the Wakefield Anglican diocese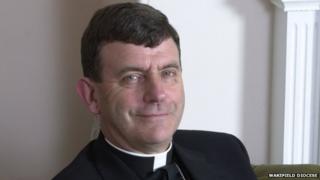 A parade of clergy and a service of thanksgiving will be held later to mark the end of the Anglican diocese of Wakefield.
The diocese, formed 126 years ago, will cease to exist on 20 April when it merges with the dioceses of Bradford and Ripon and Leeds.
The Wakefield diocesan synod had voted against the creation of the new West Yorkshire and the Dales diocese.
The Church of England says the new diocese will be more efficient to run.
It also said the change would help address issues of declining congregations, reduced numbers of clergy, weakened finances and rising pension costs.
The new diocese will run from Barnsley in South Yorkshire through West and North Yorkshire to parts of County Durham, covering 2,425 square miles and serving a population of 2,614,00, according to the Church of England.
A parade of clergy and civic leaders led by the Bishop of Wakefield, The Right Reverend Stephen Platten, will proceed from County Hall to Wakefield Cathedral for the service at 15:30 BST.