Leeds City Council reaches settlement over arena costs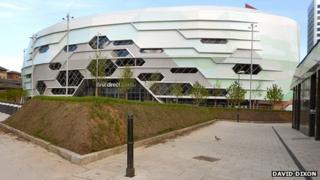 A bankruptcy order against a property developer told to pay £2m in costs to Leeds City Council has been dismissed after a settlement was reached.
Jan Fletcher was ordered to pay the costs last year but failed to do so - prompting the council to take action.
However, the order was formally dismissed, on the council's request, after a £2m settlement was agreed.
Council chief executive Tom Riordan said the agreement represented a "good deal for council tax payers".
Ms Fletcher was told to pay the interim costs after her firm Montpellier Estates Limited lost a £43.5m damages bid against the council over a contract to build Leeds' First Direct Arena.
'Costly legal process'
Mr Riordan said: "I'm very pleased that we have been able to recover a significant sum of the money we should never have had to spend in this case.
"I'm satisfied, based on legal advice, that this is a good deal for council taxpayers.
"This has been a long drawn-out and costly legal process and we are finally drawing a line under it by recovering as much as possible of public money at a time when our budget pressures are particularly severe."
The BBC has been unable to reach Ms Fletcher for comment.