Demolition crews at site of Armley fire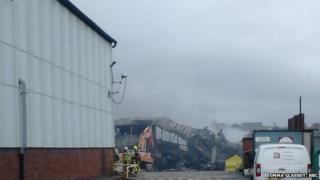 Firefighters and demolition crews are working to access the last remaining flames of a huge fire which hit two firms in Leeds over the weekend.
At the height of the blaze on Easter Monday, more than 100 firefighters were at the industrial estate in Armley.
West Yorkshire Fire and Rescue Service said the blaze had affected Tradpak Recycling and Hazel Products.
Demolition crews are trying to access the Hazel Products factory, where pockets of fire remain.
'Several seats of fire'
Crews had battled the fire at chemical recycling firm Tradpak, which started at 02:00 BST and sent thick smoke over the city.
West Yorkshire Police said it was now investigating the cause of the blaze.
Martin Langan from the fire service said: "There are several seats of fire underneath sections of the roof of Hazel Products that have collapsed.
"We are working with demolition crews to gain access and then we will advance with handheld fire-fighting jets to deal with the remaining seats of fire.
"It is anticipated that firefighters will be at the scene all of Tuesday and possibly Wednesday."
A fire service spokesman said "a significant number" of properties had been saved.
'Best chance of survival'
Meanwhile, hundreds of fish are to be released from the Leeds and Liverpool Canal near the site of the fire into the adjacent River Aire after water was polluted during the firefighting effort, the Environment Agency has said.
A number of fish had already died as a result of pollution caused by water which was used to fight the fire running into the canal, the agency said.
A spokesman said the agency was working with the Canal and River Trust to open lock gates near Canal Wharf allowing fish to enter the Aire "so they have the best chance of survival".
Water samples taken throughout Tuesday showed pollution levels in the canal had already dropped so the impact on the Aire was expected to be "minimal", the spokesman added.
The agency and the Canal and River Trust plan to flush the canal with fresh river water on Wednesday to help further improve water quality.