Firefighters to remain at Armley fire site for fourth day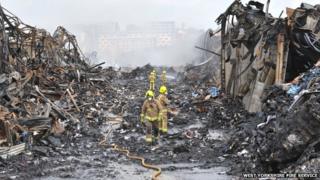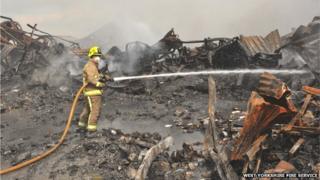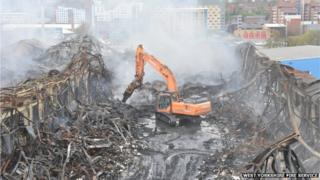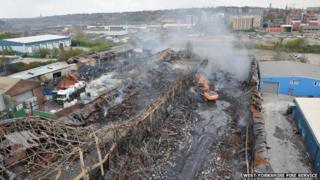 Firefighters are expected to spend a fourth day extinguishing pockets of fire left after a huge blaze in Leeds, West Yorkshire Fire Service has said.
At its height on Easter Monday more than 100 firefighters attended the blaze at Hazel Products and Tradpak Recycling on Armley Road.
About ten firefighters are due to remain on site on Thursday as several small blazes are still alight, the fire service said.
The cause of the blaze is unknown.
Crews were called to chemical recycling firm Tradpak at about 02:00 BST as the fire sent thick smoke over the city.
West Yorkshire Police sealed off nearby roads and evacuated a nightclub due to concerns for the safety of revellers.
'Pockets of fire'
Ian Thompson, from the fire service, said that while warehouses at Hazel Products had been fully demolished, several small fires remained.
He said: "The demolition crew on the Hazel Products site are working to clear a path to the bottom of the site so we can continue to extinguish pockets of fire that are still burning to the back end of the site."
Fish from the Leeds and Liverpool Canal near the site of the fire have been released into the adjacent River Aire.
Hundreds were killed after canal water was polluted, the Environment Agency said.
Martin Christmas, from the agency, said many surviving fish had been left "dazed and stunned" by the pollution.