Leeds trolleybus scheme public inquiry starts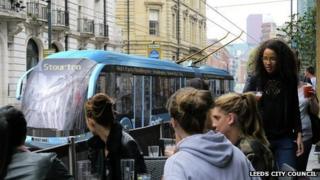 A public inquiry has started into a £250m trolleybus system for Leeds.
The proposed nine-mile (14.8 km) route would run from the city centre to the north and south of the city.
It would be the first modern trolleybus system in the UK and the Department for Transport said there had been more than 1,700 objections.
Councillor James Lewis said it would be a chance to show the "significant benefits" of the scheme and for opponents to present their evidence.
The Leeds New Generation Transport trolleybus system (NGT) is proposed by Metro and Leeds City Council.
Mr Lewis, Metro chairman, added: "We have known from when we started developing NGT there would be a public inquiry."
The inquiry is expected to last between six and eight weeks.
Powered by electricity from overhead wires, trolleybuses were popular in the UK during the early decades of the 20th Century.
Leeds was served by trolleybuses from 1911 until 1928 and the last system of its kind in the country, in neighbouring Bradford, was shelved in the 1970s.